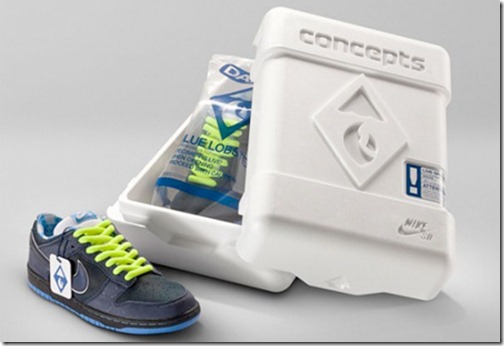 Brands that have a clearly defined positioning strategy from product ideation through retail merchandising, succeed as a result of proper overall presentation.This presentation mindset is engrained into the culture of these brands, and cross-functionally expectations are to "finish off" all aspects prior to qualifying the product for distribution.
To many times you will see brands either "rush" a product to market, or qualify a product knowing it is not representative of the brand image. It is crucial and imperative, for brands to "Bleed" brand equity wherever and whenever it can. One of the most effective opportunities is in product presentation at retail or on-line. When a product is opened, this may be the first or last experience a  consumer has with your brand, and  they can either become an "ambassador" or move on to another. 
With the marketplace becoming more "interactive" (QR codes/tags), this is a significant opportunity to tell your story (be brief…!), or build "personality" around your unique product or technology. As powerful as this medium is, be careful not to abuse your priviledge. The intention is be "informative" and leave them wanting more…
Always "Finish off " the Product (No Shortcuts)…
Always look to "Interact" and "Inform"…
Always look to build Brand "Equity"…
Enjoy the Ride..!
Bryan Smeltzer
www.bryansmeltzer.com
"Product Innovation & Marketing Success Blog.."
The author
I have a passion for living balanced life and a strong faith...each equally important for thriving and excelling…I love crushing mountain bike trails, exploring and finding ways to grow beyond the "status quo". I am a dedicated, innovation driven team leader with a passion for establishing a disruptive vision and executing a market dominating strategy… Our industry has always been about creating innovative, market driving solutions that enhance performance or provide for a better life beyond sport. It has also been about culture, fit and passion for the brand. When these foundational pillars are removed, the brand starts to crumble. Being part of an industry that bridges talent between product creation, marketing, sales, finance and operations is formula for success, because every function is about building a foundational performance brand. It's galvanizing when elite athletes wear and endorse our creations, but the real strength is leading the teams that combine their creative forces and technical expertise to make the engine roar. I am always passionate for defining and leading the next industry revolution… Extensive executive level experience across globally recognized brands, each number one in their respective  markets, along with having founded and successfully sold my own branded apparel company. Whether establishing new product lines, building global marketing strategies, leading design/development teams, I have a passion for building and growing brands.  Some examples; • Built Zamst from start up to achieving nationwide North American distribution, and 845% revenue growth over a 3 1/2 year period. • With Gathering Storm, grew TaylorMade/adidas Golf Accessories from $11M to $48M over 3 years. • K-Swiss, global executive management of $38M in international licensee's and domestic apparel/accessories division. • OAKLEY, built and successfully developed "Athletic Division" NCAA licensed team eyewear/apparel product lines achieving $1.4M in initial season.